Welcome back, everybody, to the Manuscripts Burn Women in Horror Month interview series!
I know you're all avid readers, but did you know that some people also absorb horror through movies? I know, it shocked me as well, but when film producer
Samantha Kolesnik
reached out to me about her short film "
Rainy Season
" based on the short story by
Stephen King
, I guess I learned something about this crazy community of ours. So now let's meet her and learn a little bit about the movie.
Samantha Kolesnik
is a writer and film producer living near Philadelphia, PA. She is the Editor in Chief of "
Five on the Fifth
," an online literary magazine. She recently wrote and co-produced with
Hollow Tree Films, LLC
the short psychological horror film, "The Price of Bones." Her short story, "Christmas Morning" was recently published in "
Rose Red Review
," and her short story, "I Baked Him a Cake" is forthcoming in "
Hypnos Magazine
."
Interview:
SK: What are your horror bona fides? Who have you scared?
SK: For me, it's about subtlety and suspense - the possibility and probability that something is about to go terribly wrong. Often, the less you see the monster, and the less you know about it, the scarier it is. I can easily conjure to mind the eerie short story by Joyce Carol Oates, "Where Are You Going, Where Have You Been". The reader never knows what happens. And nothing bad exactly happens in the story, but what is about to happen, what could happen - it's terrifying. I recently scared some of my friends who read my story, "I Baked Him a Cake" which is forthcoming in the spring issue of "Hypnos Magazine." It's about a little girl who loves her father so much she is going to bake him a cake on his birthday. Innocent enough. Only, where is Dad?
SK: Who or what terrifies you?
SK: Mostly people. People have a capacity for evil inside of them that is incredibly frightening.
SK: Are there unique challenges to being a woman in horror or do you feel like gender is irrelevant?
SK: There are unique challenges, especially for actresses who want to be in horror films. There aren't enough roles out there that do justice to their abilities. A lot of scripts limit their range. A lot of it is, "What do you look like running with your top off?" I'm a huge fan of slasher flicks, don't get me wrong, but I want to give women more than that. One of my favorite female horror performances - Kathy Bates in "Misery" - now that was an awesome female horror role! I want more of that, and I aim to make it happen.
SK: Who are your favorite female horror icons?
SK: My favorite female horror icon right now is Denise Gossett. She is the founder of the Shriekfest Horror Film Festival in Los Angeles and it's in its 16th year right now. She runs an outstanding horror film festival. I went this year and the horror films curated for the event were so far above and beyond anything I had seen in a long time. Truly chilling works of art. She does a great service to the horror community, and I admire her for that, especially since running a film festival can be largely a selfless, time-consuming task.
SK: What are you working on/promoting currently? Why should folks check it out?
I just finished producing a short horror film I wrote, "The Price of Bones", with
Hollow Tree Films, LLC
, a NY-based film production company owned by Brandon Taylor, Melissa Sherry, and Michael Sherry. It's a psychological horror short with an all-female cast. The main character, Caprice - she and her mother are creepiness incarnate. It's not full of jump scares - it's dark and it creeps under your skin. It's in post right now and we can't wait to share it with the world. The second project I am working on is "Rainy Season", a film based on a short story by Stephen King. It's a crazy good story - and it's being produced by Vanessa Ionta Wright, who also wrote the script. She's amazing. We're currently crowdfunding for the project and would love support to make it happen.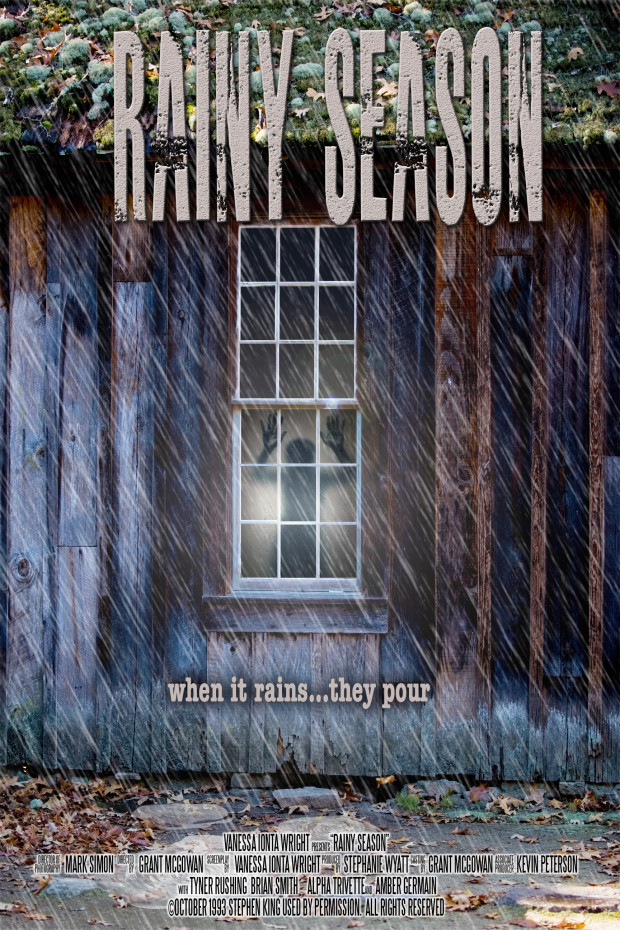 when it rains...they pour
Indiegogo
Website
Facebook
Twitter
Instagram